The following discounts: the twilight and super twilight rates at LakeTahoe Golf Course and Tahoe Paradise Golf Course, and Edgewood may have an occasional special, but usually not high season like summer.
The Mountain course at Incline may still have the $10 after 3pm rate.
Coyote Moon in Truckee (amazing course) may still offer the $100 or $120 rate, from an earlier special.
There is sometimes a 2 for 1 at
https://www.2for1golf.com/scripts/directory_search.asp?idDir=120&dirState=CA
More info: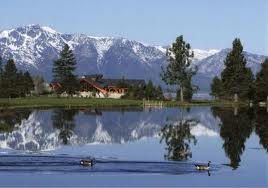 Edgewood Tahoe Stateline. Reservations: 888-881-8659, pro shop: 775-588-3566. Almost walking distance from the Lakeshore House and Marriott's Grand Residence. 18 holes May 7 to Oct 11. 4 sets of tees - 5567 to 7445 yards - par 72. Soft spikes required, caddies available. One of the world's most scenic and demanding courses on the shore of Lake Tahoe - ranked in "America's Top 100". #16 is ranked as one of the twelve best holes in the country. The course is ranked #2 in Nevada. Very popular - reserve tee times as far in advance as possible (up to 90 days in advance allowed for individuals and up to one year for groups over 20 with deposit). Site of the Celebrity Golf Classic in early July. See #11 on the golf map.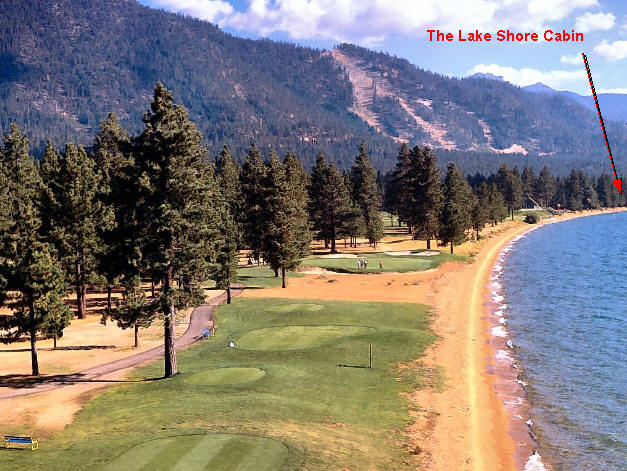 Edgewood Tahoe
No ratings or reviews so far | Submit your rating
3464 Fairway Dr
South Lake Tahoe, California 96150
El Dorado County
Phone(s): (530) 542-6097

9 Holes | Public golf course | Par: 32| 2002 yards | ... details »

Lake Tahoe Golf Course|
No ratings or reviews so far
2500 Emerald ay Rd
South Lake Tahoe, California 96150
El Dorado County
Phone(s): (530) 577-0788
Website:
www.laketahoegc.com

18 Holes | Public golf course | Par: 71| 6741 yards |
Book online
|
... details »
Tahoe Paradise Golf Course
No ratings or reviews so far | Submit your rating
3021 Emerald Bay Rd
South Lake Tahoe, California 96150
El Dorado County
Phone(s): (530) 577-2121
Website: www.tahoeparadisegc.com

18 Holes | Public golf course | Par: 66| 4034 yards | ... details »
Attached are Tahoe Paradise flyer, and 2 coupons for Carson/Gardnerville (our guests get the coupon book with their keys).
Our Tahoe golf courses offer either/or early bird specials or twilight (LTGC).
Edgewood often has a good twilight rate (comnpared to the regular rate).
Then there is always little Bijou Golf Course - you walk it and it is inexpensive!
\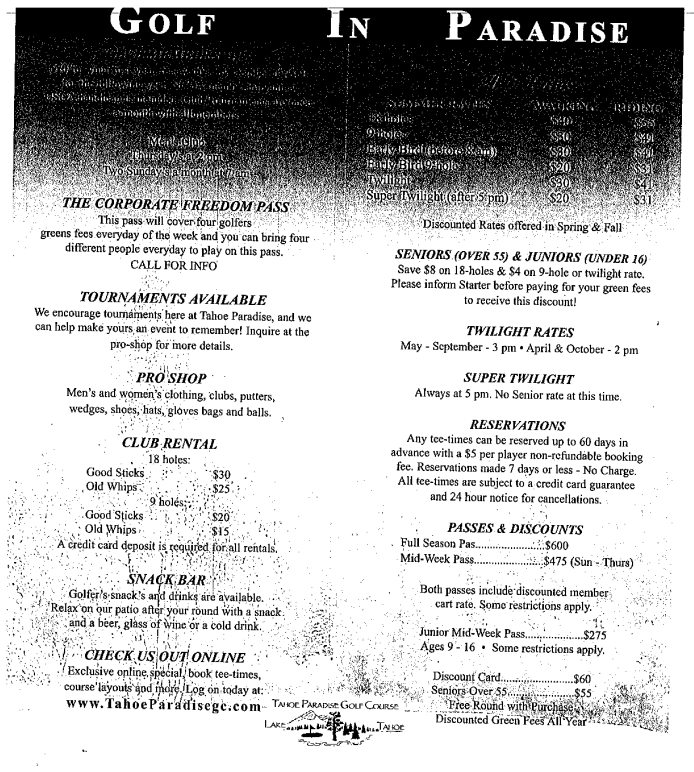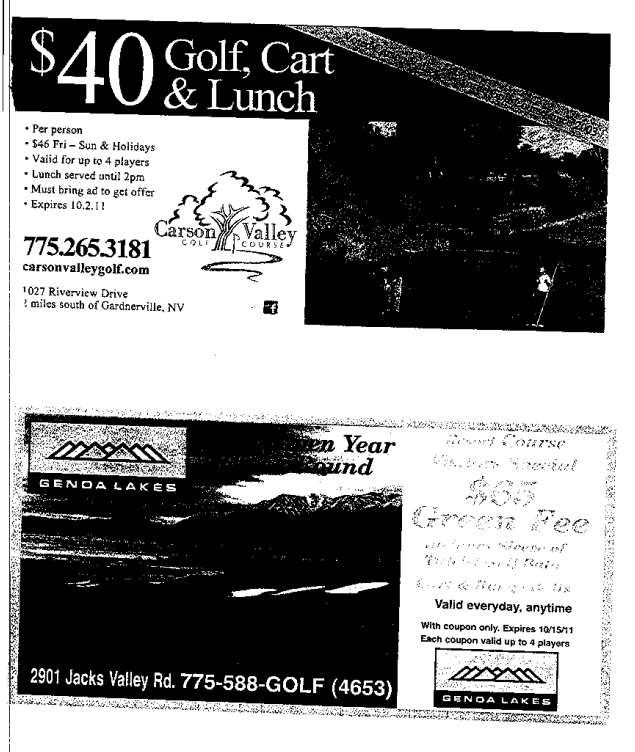 Coyote Moon Golf Course – In a tranquil mountain setting above 6,300 feet, Coyote Moon captures your attention and captivates the senses. A majestic mountain masterpiece designed by former PGA Tour player Brad Bell, the course is 250 secluded acres of rolling hills framed by towering Ponderosa pines without a home site or structure to spoil the view. The course cascades over a beautiful Sierra ridge line, meandering among daunting granite bluffs and around and across crystal clear Trout Creek.
https://www.coyotemoongolf.com
CUSTOM SCORE CARD



Ponderosa Golf Course -- 9-hole regulation course nestled beneath towering Ponderosa Pines. A challenging, Northern California Golf Association rated couse, it offers the perfect getaway for both the serious handicapper and the Sunday duffer.
10040 Reynold Way
Truckee, CA 96160
530-587-3501
CUSTOM SCORE CARD



Tahoe Donner - Tahoe Donner's 18-hole Championship Golf Course is located high in the Sierra. Cradled among the towering pines, the course's narrow fairways and numerous creeks place a strict demand on accuracy for a challenging and enjoyable round of golf. A semi-private course, Tahoe Donner was designed by Roy Williams and Bill Bell Jr. and opened in 1975. Other amenities include: Pro Shop, Rental Clubs, Driving Range, Lessons and Clinics, Tee D's Bar & Grill and Snack Bar.

CUSTOM SCORE CARD

Wildcreek Golf Course»
When a golf course has been chosen three times to host the PGA Seniors Tournament, you know that playing it won't just be another walk in the park. Variety is the signature of Wildcreek, where you'll...
MORE »
Book Tee Times for Wildcreek Golf Course
More Featured Reno Nevada Courses:
Genoa Lakes Golf Resort #2»
Built for power and distance, the Resort Course cuts into the rugged Sierra Nevada foothills, just two miles from the Lakes Course. Johnny Miller and John Harbottle III were the driving force behind...
MORE »
Book Tee Times for Genoa Lakes Golf Resort #2
D'Andrea Golf Club»
Designed by award winning golf course architect Keith Foster, D`Andrea Golf Club is one of Reno/Sparks most memorable golf experiences.This 6,849-yard, Par 71 layout combines challenging second-shot...
MORE »
Book Tee Times for D'Andrea Golf Club
The Resort at Red Hawk»
Three-Time U.S. Open Champion Hale Irwin was instrumental in bringing soul and purpose to his Signature Design Hills Course, the centerpiece for the Private Club at Red Hawk. The Hills Course is...
MORE »
Book Tee Times for The Resort at Red Hawk
Silver Oak Golf Course»
Nestled in northwest Carson City, Silver Oak's 18 scenic holes wind through the Sierra Foothills and the Silver Oak residential community. Spread out over 160 acres, this eighteen-hole public golf...
MORE »
Book Tee Times for Silver Oak Golf Course
Sun Ridge Golf Course»
The 18-hole "Sun Ridge" course at the Sun Ridge Golf Course facility in Carson City, Nevada features 7,054 yards of golf from the longest tees for a par of 72 . The course rating is 72.7 and it has a...
MORE »
*Eagle Valley
Carson City 775-887-2380. 3.5 miles east of Carson City on #50 and then north on Centennial Park Dr. 36 holes: East Course, 6658 yards - par 72, and West Course, 6851 yards - par 72. The East course is wide open with fairway rough and numerous traps. Its an excellent walking course. The West course is a links-style, hilly, narrow, finesse course with fast, undulating greens, four sets of tees, and mandatory carts! Spectacular flora and fauna as well as an excellent view of Carson City. Phone after 3 pm on Fridays for tee times for the following Monday through Sunday. See #7 on the
golf map
.
*Dayton Valley Country Club
Dayton 775-246-7888. 15 miles east of Carson City on the north side of #50 off Dayton Valley Road. 18 holes, 7161 yards - par 72. Cart included but you can walk. Highly rated and difficult course designed by Arnold Palmer. Intricate bunkers, rock outcrops, and undulating fairways. See #6 on the
golf map
.
*Carson Valley Golf Course
Gardnerville 775-265-3181. 2 miles south of Gardnerville on #395 and then east a half mile at the "7-11 store" on Riverview. 18 holes, 5760 yards - par 71. Short but challenging with a Basque restaurant on site. See #9 on the
golf map
..
*Hidden Valley Country Club
Reno 775-857-4735. 1.5 miles east of the airport in Reno on Hidden Valley Drive. 18 holes, 7061 yards - par 72. Older, private course open to card-carrying members of other private clubs. Long, open layout, sloping greens, not much water. Call first to check on the condition of the greens. See #15 on the
golf map
.
*Northgate Golf Club
Reno 775-747-7577. #80 west to Robb Drive north then to Mae Anne west. 18 holes, 6966 yards - par 72. Mandatory carts. Challenging layout with undulating fairways and greens crowded by both sand and grass bunkers. First Nevada course to host US Open qualifying. Host of Hogan Tour. See #13 on the
golf map
.
*
Genoa Lakes
Genoa 775-588-4653. Two 18 hole championship course one mile north of Genoa and west of #206. 7263 yards - par 72. Soft spikes mandatory. Links style at the Sierra foothills along the Carson River. Rated as the 3rd best Nevada course! Also ranked in the top one percent of new championship courses by
Golf Digest
! See #10 on the
golf map
.
*Thunder Canyon Country Club
Carson City 775-884-4597. Private equity course five miles north of Carson City flanking the west side of highway #395 and across from Washoe Lake. 7203 yards - par 72. Five sets of tees. Designed by Robert Muir Graves. Championship course, regular host of national qualifying events. Traditional design with 200'elevation changes, magnificent views of Washoe and Mt. Rose. Lots of water, rocks, and trees. See #5 on the
golf map
.
Lakeridge Golf Course
Reno 775-825-2200 or 800-815-6955. Southwest Reno, west off Plumas Drive just south of McCarron Blvd. 18 holes, 6715 yards - par 71. Mandatory carts until 5:30 pm. Large greens, lots of water and great views. Your tee shot on #15 drops 140 feet onto an island green in Lake Stanley. See #14 on the
golf map
.
Glenbrook
Glenbrook, on the east shore of Lake Tahoe 775-749-5201. 9 holes April to Oct. 5566 yards - par 71 (based on 18). Carts are extra for 9 holes. Rated as one of the top five nine hole courses in the world with spectacular scenery along the lake! You don't want to miss this course! Tee time reservations up to seven days in advance. Just north of the
Lake Village condos
. See #12 on the
golf map
..
Lake Tahoe Golf Course
South Lake Tahoe 916-577-0788. South of the airport off #50. 18 holes April to Oct. 6707 yards - par 71. Surrounded by mountain peaks, lots of water, demands good ball placement. See #2 on the
golf map
.
Incline Golf Courses
Incline Village 775-832-1144. Off #28 at Incline. 36 holes May to Oct. 6910 yards - par 72 and 3513 yards - par 58 executive. 72 hour cancellation policy on advance reservations. Gorgeous alpine layout amid tall pines. See #8 on the
golf map
..
Northstar-at-Tahoe
West of #287 south of Truckee 916-562-2490. 18 holes May to Oct. 6897 yards - par 72. Front 9 is wide open with heavily contoured greens. Back 9 is narrow among the conifers. Water on 14 holes. See #4 on the
golf map
.
Plumas Pines Golf Resort
Blairsden CA 916-836-1420. Fifty miles north of Truckee on #89, past Graeagle, left on A-14 and right on Poplar Valley Road. 18 holes April to Oct. 6504 yards - par 72. Carts mandatory to 4pm. Lots of water, trees, nature in a relaxed setting. Well worth the drive north of Truckee. See #3 on the
golf map
.
There was an artical on golfing Tahoe on 3 different budgets:
From Reno to Lake Tahoe, golf the High Sierras on three budgets
By
Brandon Tucker
, Senior Writer
SOUTH LAKE TAHOE, Calif. -- When the network TV cameras are shined upon the golf courses of Reno-Lake Tahoe, it's on celebs such as Tony Romo or Dan Marino heaving footballs to spectators on the 17th tee of Edgewood Tahoe. Or it's the PGA Tour's Reno-Tahoe Open staged at private Montreaux Country Club.
While these events help showcase the destination as a coveted summer playground, they don't do justice to just how deep the lineup of courses is. Some of the world's best summer mountain golf can be played around Lake Tahoe and Truckee.
Then, just 30 minutes to the east and over the mountains in Nevada, golf -- generally more affordable -- can be enjoyed in Reno-Sparks and the Carson Valley all year long.
And the best part about High Sierras golf is that while there are a number of high-end resort and semi-private courses, golfers on any budget can get into the dry air and play some fine courses.
Depending on your checkbook, here is how you should plan your golf vacation around Lake Tahoe and nearby Reno-Sparks ...
Lake Tahoe on a high-roller budget
On a high-roller budget, start at
Edgewood Tahoe Golf Course
, in the shadows of the casino hotels on the South Shore and boasting the area's only holes along Lake Tahoe.
After golf, enjoy a beer or dinner at Brook's Bar and watch the sunset -- it doesn't get much better on a clear summer day in the mountains.
Semi-private and resort golf on the North Shore is plentiful, too, where new developments are anchored by some seriously good courses around Truckee.
Old Greenwood Golf Course
and the
Golf Club at Gray's Crossing
are sister courses that both offer member-for-the-day, high-roller golf experiences on beautifully conditioned courses that are a joy to play.
Also,
Shaffer's Mill
(formerly Timilick Club) is one of the area's newest courses and features a John Harbottle/Johnny Miller design that is as good as the area can offer.
While Shaffer's Mill, Old Greenwood and Gray's Crossing are more traditionally styled mountain courses,
Coyote Moon Golf Course
is jaw-dropping, up-and-down golf full of elevated tees and greens -- and no residential development attached to it.
For accommodations, visit the new Ritz-Carlton Highlands at Northstar, a 170-room luxury lodge and spa for all seasons that offers golf package deals to Old Greenwood and Gray's Crossing.
High Sierras golf on a mid-range budget
For "mid-range" we're factoring morning green fees less than about $130. That prices you out of a morning tee time around Lake Tahoe and Truckee's best courses, though you can play 18 in the afternoon at Coyote Moon for $95 and Old Greenwood for $100.
Or head over the Kingsbury Grade from South Tahoe to the
Lakes Course at Genoa Lakes
, set on the eastern slopes of the mountains and was designed by John Harbottle, a popular name (with very good reason) around these parts, along with player designer Peter Jacobsen, who also had a hand in Gray's Crossing.
If you're willing to make the drive up to Plumas County (about an hour's drive from the north shore), play
Whitehawk Ranch
, deserving of inclusion among discussion of the area's best, that features both heavily forested and open meadow holes with panoramic mountain views. At $125 peak (or $95 after 2 p.m.), it would easily be more expensive if it were closer to Tahoe.
The Resort at Squaw Creek boasts a championship Robert Trent Jones Jr. design that costs just a shade less than $100 and plays under 7,000 yards. It's set on valley ground beneath the ski slopes with a smattering of wetlands.
Mid-priced golf in Reno can be found at
LakeRidge Golf Course
, home to the signature island green with a 150-foot elevation change, as well as semi-private, 36-hole
ArrowCreek Country Club
.
For accommodations, check out Truckee's Cedar House Sport Hotel, a modern, European-inspired lodge with stylish accommodations -- and free breakfast -- within a mile of Truckee's town center. Or check out South Lake Tahoe for the larger casino-hotel vibe at a property like Harrah's or Harvey's.
Budget golf in the High Sierras: Carson Valley and Reno
Golf on a tight budget will price you out of most mountain golf courses worth visiting, but there is hope.
Northstar-at-Tahoe Resort
offers a more classic golf course at the foot of the mountain, with a yardage up to 6,800 yards (rates are $50-$70) but offers resort amenities such as GPS. You can tee it up at the par 58
Incline Village Mountain Course
, second fiddle to the
Championship Course
, for about $45-$75.
For a quick and casual golf fix, check out Tahoe City's historic nine-hole course opened in 1917 within a pitching wedge of the lake ($40).
The desert and valley side of the mountains to the east is where you'll find better value. LakeRidge is one of the better value plays, with one of the state's most memorable par 3s, which features about 200 feet of vertical drop to an island green.
Dayton Valley Golf Club
recently assumed new ownership and is currently offering a $40 rate seven days a week. The course is a regular PGA Tour Qualifying host and has been every year since opening in 1995. The same ownership operates Wolf Run in Reno, which has rates from $45-$65.
If you can't stomach the
Lakes Course at Genoa Lakes Golf Club
's green fee, play the less expensive
Resort Course
, featuring 300 feet of elevation change and slightly less expensive rates.
D'Andrea Golf Club
in Sparks is an always dramatic course rolling up and down desert foothills and features severe fast greens accentuated by the slopes they hang on. Morning rates peak at $69, while twilight dips less than $50.
RedHawk Golf Club
features one private and one public course, and the pubic
Lakes Course
is a Robert Trent Jones Jr. design with some let 'er rip fairways but tough approach shots and plenty of water ($40-$70).
For accommodations, check out a casino hotel in downtown Reno. There are scores of options all offering their own deals. In Lake Tahoe, small little inns and hotels surround the lake in just about every village, and rates can be found less than $100.